Life has a variety of moments. Moments that can be captured in a gold piece of jewellery so it will never be forgotten. Slowly, a Minitials Collection emerges. Just like it did with Robin.
Robin says: "My Minitials collection started in June 2014 when our daughter Fenna was born. My first piece of Minitials jewellery was the One Signature necklace with the initial F. Four years later, the necklace was expanded with the symbol & and the initial L of our second daughter Lynn. After this expansion, I wanted to extend my collection even further. All the jewellery is beautiful which made choosing difficult".
In 2019, Robin made an appointment at the Minitials shop in Eindhoven to view and try on all the jewellery. Robin's choice was quickly made. The collection is extended with the Three Signature round satin bracelet. Robin continues: "The initials in the bracelet (R,F&L) represent my husband and children. In the shop, I was helped very pleasantly. The positioning of the letters was a bit of a puzzle. I was allowed to help with this myself, which made the bracelet even more special".
On Mother's Day, Robin is given the honour of choosing a piece of jewellery by her husband. The choice was not easy but this time Robin knew it had to be a necklace. Together with her husband, Robin came back to the shop. Robin says: "I wanted to incorporate the fingerprints of my two beautiful daughters on a necklace. It soon became clear that The Sparkle Snake Necklace was best suited for this. After putting the necklace on, I was sold. Taking the fingerprints was a bit tricky. Marshia helped us a lot with this so that we had the perfect fingerprints of the girls. The back is still empty. I want to have it engraved when Lynn can write. Then I can engrave a beautiful text from both handwritings".
On 1 October 2020, Robin's collection was expanded even further. Robin says: "On my birthday, I received a gift from my husband and children. The Minitials Four Unity satin bracelet. I was so not expecting this. What a beautiful bracelet to get. This one will never come off again". A year later at Christmas, the collection is further expanded with the Minitials Two Benji Blocks satin bracelet. Robin says: "On these bracelets I had our zodiac signs incorporated. Again, I am extremely happy with this expansion".
Robin's collection is not finished yet and the last purchase (so far!) was made in October 2022. The Minitials Iniemni Hoops. Robin says: "The jewellery is incredibly beautiful and they remain so. In addition, the service is also fantastic. Both online and in the shop I am helped very well each time. By now my daughters are also wearing three minitials bracelets. My beautiful addiction is passed on to the girls!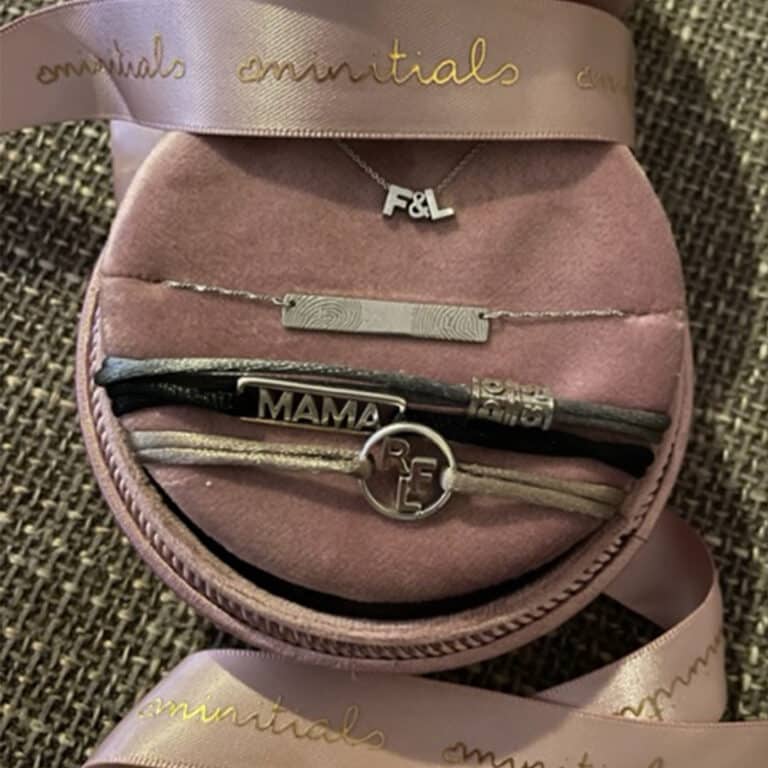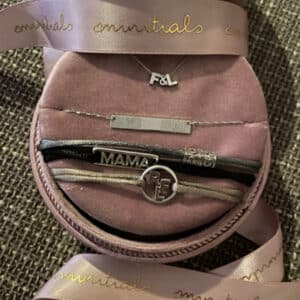 Want to start your own Minitials collection? Check our website for all the possibilities or make an appointment in our shop. We will be happy to help you pick a suitable personalised piece of jewellery.