On this page we will show you how to tie the knot for our Signature bracelets and Benji bracelets.
Satin bracelets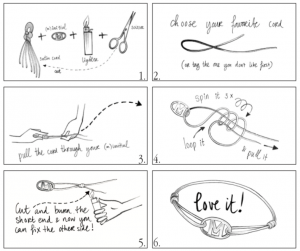 Exchange your satin cord (re-cording service)
Our premium satin cords are very durable, but because it's a fabric product, we recommend to change your satin cord every season. You are welcome in our store in Eindhoven, we will tie a new knot on your bracelet.
A bracelet color can run out of stock due to popularity. Therefore we will not guarantee the availability of your favorite satin cord colour, but will try to keep our selection as continuous as possible. Due to external production it might occur that a satin colour will be completely removed from our collection.