Necklace length
When you buy a necklace, of course you want it to be the right length. But what is a good length of necklaces? And how to determine the necklace length?
We tell you how to do this and provide tips for the perfect length of necklace for women, men and children. This way you can more easily choose the necklace that suits you!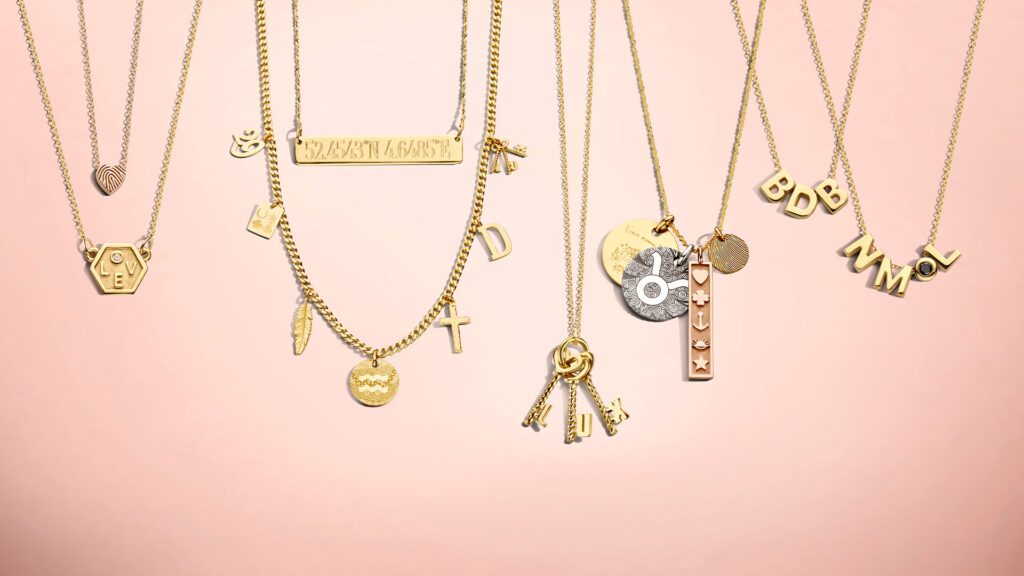 Different necklace lengths
Necklaces are available in a variety of lengths. This is also nice: a long necklace creates a different look than a short necklace. Therefore, determining the perfect necklace length is difficult: it depends on your needs. However, we can provide some guidelines and tips to make it easier for you to determine which necklace length is right for you.
An average necklace for women has a length of about 39 to 44 centimeters. Men usually wear a slightly longer model, about 60 centimeters on average. For children, you can average 36 to 38 centimeters. But more importantly, choose the length you like. There is no right or wrong in this of course!
Tip: check if the necklace has adjustment eyelets. Thanks to adjustment eyelets, you can make a small variation in the length of the necklace. Adjustment eyelets are listed (when present) in the product details.
Necklace length from Minitials: One signature necklace
An example of a popular necklace from our assortment: the Minitials One Signature necklace is worn short so that the letter falls into the dimple of your neck and in this way stays well for as long as possible, throughout the day.
You can choose from a length of 41 cm (with adjustment eyelets at 40 and 39 cm) and a length of 44 cm (with adjustment eyelets at 43 and 42 cm).
What length of necklace you need depends on your neck. From a distance, this is difficult for our team to judge.
If you have any doubts you can always make an appointment in our Flagship store in Eindhoven, we are happy to look at it with you.
Did you know that, provided all parts are in stock, we can make most Signature necklace directly?
Here's how to measure the perfect necklace length
There are several ways to measure the perfect necklace length. The easiest way is to measure a fine necklace you already have.
Don't yet have a necklace in the length you like? Then you can also tie a string or ribbon around your neck exactly at the height where you want the necklace to hang. Cut off the ends outside the knot and then remove the knot from the string. Now you can easily use a tape measure to measure how long a necklace should be for the right length!
Necklace length in inches
Sometimes the necklace length is not displayed in centimeters, but in inches. This is often the case with foreign webshops, for example. This need not be a problem: you can easily convert inches to centimeters. 1 inch equals about 2.54 centimeters.
Don't feel like calculating this? Don't worry, Google is your help. With a quick search (for example, "12 inches in inches"), the search engine provides the correct answer. You can also grab a tape measure; these often come with both a centimeter designation and a designation in inches. You can then hang this tape measure around your neck to see how the necklace length falls in inches.
In our webshop, fortunately, the length of the necklace is simply indicated in centimeters. How nice!
Combining necklaces
Consider combining necklaces. Indeed, wearing different necklaces with different necklace lengths creates a charming and playful look. This is also known as necklace layering.
For example, combine a short necklace from our Signature collection, where you wear a small gold charm with initial or symbol, with a slightly longer model such as the Jubilee necklace or Lucky Leaf necklace!
Necklace length vary
Can't decide on necklace lengths? Then consider ordering loose charms and necklaces. When you choose loose necklaces to go with charms, you can wear the charm at different heights, just whatever you feel like that day! Extra fun: you can also vary the chain itself, choosing, for example, one with large links and one with small links.
Please note that not every charm is removable from the necklace. When you order loose charms, however, you can always wear them with other necklaces.
Necklaces to wear for years to come
The base of all our necklaces is 18 karat solid gold. Our goldsmiths make each piece of jewelry by hand in the Netherlands, giving extra attention to personal details. The high quality of all materials ensures that you will enjoy your necklace for years to come, no matter what length it is!
Share on: